We are proud to partner with local chefs, caterers, bakers, and some wonderful cooks to bring you a wide variety of inspiring classes. Please click on each chef's name to see a list of the classes each is currently teaching.
Full time mom + math and science educator = wine lover! Shelley, a North Carolina transplant originally from Georgia, recently moved to Winston-Salem with her husband and two daughters. When she's not teaching math and science to 3rd-6th graders, she's hosting in-home wine tastings and educating adults (over 21 of course) about red and white varietals. Come sip and sample wine while you become an expert on types of wine and the best food pairings!
Tam Benefiel, originally from the San Francisco bay area, has lived in North Carolina for over 30 years. She is happily married to Steve and they have a grown daughter, Jennifer. "I have always had a love for food, and have found that tasting the ingredients independently was an important step to becoming a better cook. After our retirement, my husband built a bar in our home, known as the Tree Top Tavern. I became interested in crafting cocktails for our friends, family and neighbors. Just like with cooking, the presentation, quality of ingredients, and tasting the individual ingredients is important when creating delicious cocktails. This is what I hope to demonstrate in my cocktail classes." Her other hobbies include Airstreaming, fitness, watching binge worthy shows and spending time with friends and family.
Rashmi Gurnani moved to Winston Salem three years ago from Miami, when her husband began teaching at the Wake Forest University, School of Business. Originally from India, she has lived in Dubai, Hong Kong and Miami. Living in these different and culturally diverse parts of the world, she has learned their local cuisine and tries to create fusion dishes of her own, as well as healthier versions of traditional food. Rashmi believes in the narrative power of food in bridging cultural gaps through the stories behind a recipe. Her background as a former kindergarten teacher helps Rashmi share her passion for cooking, entertaining, and learning about different cultures through teaching classes at SOHO. She also enjoys helping others entertain through her catering services. She attributes her love for cooking to her mother who was an amazing cook and attempts to re-create some of her dishes to reminisce old times, especially during the holiday season. She enjoys collecting and experimenting with newer, more diverse recipes to add to her repertoire. She offers classes in Indian, Chinese, Thai, Lebanese, Moroccan, Spanish/Latin, and Persian cuisines at SOHO.
Mary Haglund opened Mary's Of Course! cafe in 2000 on Brookstown Ave. The restaurant quickly became known for comfort food w/ a special emphasis on breakfast & weekend brunches. In 2010 she moved to 723 N Trade St. into a larger space & a new name: Mary's Gourmet Diner. Mary was one of the first restaurant owners/chefs to use local ingredients. Mary also supports local artists & commissioned original pieces to grace the walls. The restaurant quickly found its place in the community & has been family owned & operated until Sept. 2018. Mary took on a partner, Michael Millan & has semi-retired from the daily operations. Mary loves to share her cooking skills in classes & also supports women in our community with a group called Mary's Mavens. Founded in 2016, the group is dedicated to support, empower & educate women.
Ashley Hardesty is a resident of Winston-Salem. She received a Bachelor of Science in Fashion Textile Management and Brand Management in 2013 from North Carolina State University. Since graduating, she has walked in her parents' footsteps by becoming the co-owner and marketing & branding coordinator for Forsyth Seafood Market & Cafe in Winston-Salem. In 2015 she obtained the credential of Certified Nutritional Coach, FNC, from the International Fitness Trainers of America in Raleigh, NC. She is the founder and curator of The Table Experience, a Farm-to-Table dinner party company specializing in organic meals and nutritional education held at unique venues in the Piedmont Triad since 2016. Ashley is a recent graduate of Johnson and Wales University, where she gained a degree in culinary Arts in May 2018. Ashley has worked for James Beard Award winning Chef Joe Kindred of Kindred Restaurant in Davidson, NC, and Hello Sailor of Lake Norman, NC. Ashley is an advent solo world traveler and has visited 12 different countries across 4 hemispheres in 12 months. Ashley is a diligent Christ follower and hopes to continue to serve people through health, wellness, and education of healing through whole foods.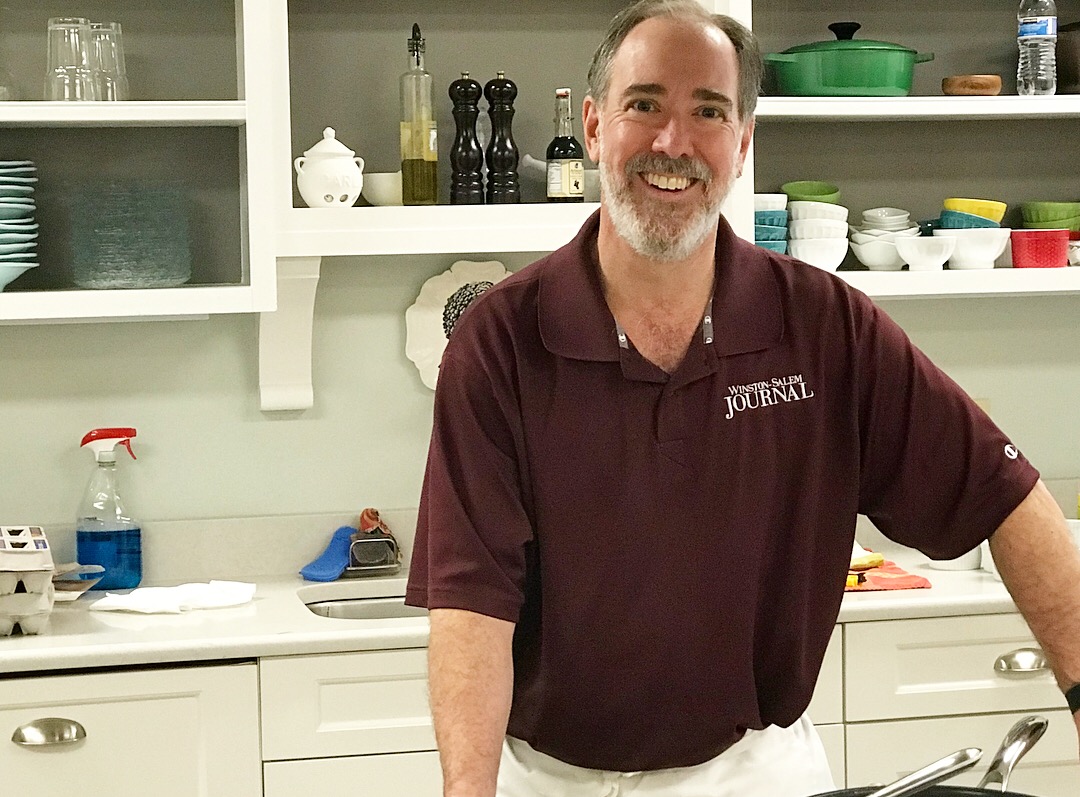 Blog: "Dishing It Out" at www.journalnow.com
Facebook, Twitter and Instagram: @mhastingsWSJ
Michael Hastings has been the food editor at the Winston-Salem Journal since 2000. His 30 years of journalism experience includes stints as a copy editor and assistant features editor. Each week, Michael writes a weekly column, feature, and other stories for the Journal's Wednesday food section. He also writes wine reviews and other food stories for other sections of the paper, maintains a blog on the paper's website, makes regular media and personal appearances, and is active on Twitter and Facebook. Before entering the newspaper business, Michael made his living as a chef in several Winston-Salem restaurants. He has a B.A. in English from Wake Forest University. He is married with two children, who are both staunch supporters and tough critics of his cooking.
I grew up on a farm in North Carolina and learned to cook from my mother and grandmothers. Much of our food came from the garden and the cows, pigs, and chickens my granddad raised (all free-range, no hormones or antibiotics as far as I remember). Ou food was very local and farm-to-table when it wasn't chic. The 4-H Club was very active in my rural farming community and I was even the Mecklenburg County Corn Meal Muffin Champ and proud winner of my first hand mixer!
Even after a failed restaurant, a brief career in banking and a move to New York City my culinary interest persisted. I eventually enrolled in the Professional Program at Peter Kump's New York Cooking School (now the Institute of Culinary Education) and launched A Matter of Taste, a full-service catering company which I successfully operated in the Big Apple for almost 20 years. I also became certified as a Health Coach at the Institute for Integrative Nutrition. When my husband and I returned to NC I began teaching cooking classes at Southern Home & Kitchen, which has been a pleasure. I love good food and have discovered that I enjoy sharing my experience and cooking tips with others. It's fun and I hope you'll join me for a class sometime.
Josh McGee hails from the small community of Rocky Hill in Knoxville, TN. His culinary education began just 4 blocks down the street from his family home in his Granny Myra's kitchen. It was here that Josh learned the art of good food, working alongside his Granny learning family recipes, chocolate pies, pecan brittle and chicken and biscuits. He saw first-handthe joy that her food brought to all who tasted.
Josh went on to study history at UT-Knoxville while working in local restaurants. While in the restaurant industry he became fascinated with the fast-pacedenvironment, the clientele, and more importantly...the food! After graduation, he relocated to Charleston, SC where he continued to hone his skills as a chef as well as learn the proper way to makegrits! Josh has crafted food in kitchens across the South and continues to combine his love of history with his passion for food. He is currently the chief saucemakerand co-owner of Y'allSauce Company based in Winston Salem, NC where he lives with his wife Emily and their three children.
Josh is passionate about Southern cuisine and itsunique ability to cross all lines and bring people together and can't wait to share his knowledge of Southern fare with the Southern Home & Kitchen family.
Hey Everyone! My name is Laurel and I am the aspiring home cook behind Southern Parm. I'm also a fur mom, a transplant North Carolinian & avid traveler.
About a year ago I decided on a whim to see if I could make those pretty decorated cookies you see in a window front of a bakery. I quickly became obsessed & now my kitchen is filled with pipping bags, royal icing & TONS of cookies! While I am not making cookies for every national holiday you can think of, I am teaching cookie decorating classes here at Southern Home & Kitchen (here are some cookies I have done for the class + for fun! We talk about the tips & tricks behind royal icing cookies as well as decorate them during the class for you to bring home. If you love sweet treats, come to one of my classes…I promise you will feel like a cookie pro by the time you leave!
Owner of To Your Health Bakery, Anna Simeonides is passionate about using food as a medium to nourish your body and cultivate joy. She specializes in gourmet/organic gluten free, vegan, and paleo baked goods. She loves recipe testing and coming up with new flavor combos.
George M. Stilphen is a self-taught home cook who was a culinary instructor at Williams-Sonoma for nearly 12 years and has been teaching at Southern Home & Kitchen since August 2017. He also does classes and demonstrations at other venues and private homes. George has taught classes in everything from Latin, Italian and Indian to Turkish and Moroccan dishes. He's an expert in cooking with fresh produce, herbs, and meats. During the holidays he'll show you how to cook the perfect turkey and side dishes. He's also an expert in cast iron cooking, slow cooking, spiralizing, seafood, salt plate cooking and knife skills. George enjoys teaching many of the cookbook classes as well. Come to SoHo to experience his delicious food!
Sweet Potatoes Restaurant & Miss Ora's Kitchen
Stephanie Tyson is a creative chef who has turned to her southern roots to bring some staples from the southern pantry back into the forefront. Her culinary training started in her grandmother's kitchen reaching to far corners of Ireland, this unique blend of training has added to her expression of southern cooking. She insists that food encounter all the senses in an enjoyable way. This experience coupled with years cooking in hotels, country clubs, chain concepts in addition to independent restaurants have benefited her passion, focusing on southern food.
Vivián Joiner has a strong background in guest relations, spending more than thirty combined years in retail and restaurant service. Her genuine care and concern for people helped to strengthen her eye for detail allowing her to function well in many aspects of guest service. Vivián has managed restaurants from fast food, independent, casual to extremely high volume all helping add to her success in the industry.
Marybeth is a Winston Salem, NC native with a lifelong passion for all things wellness, fitness, and nutrition. Her mission revolves around helping people thrive through healthy routines, fostering a positive body image, and finding balance.

Last year, she left her full-time position in emergency and pre-hospital medicine to open her own company, LivingWells, which offers wellness coaching, accountability, meal planning, personal training, and group training. When she isn't working to promote wellness from a more holistic route, she trains as an amateur Muay Thai fighter, and she still serves the community part-time as a Flight Paramedic and Emergency Medical Services Educator.
Fun fact: she has a rescue dog, Mr. Clarence, who gives hugs like a human and makes a regular appearance on her Instagram (@livingwells_) alongside healthy recipes.